GippSport's consultancy, GippSport Community Solutions, provides bespoke & niche project outcomes for key community sport stakeholders.
This position has been created to support implementation of the Increasing Access to Sport Project, which has been funded by the Latrobe Health Assembly as part of the Latrobe Health Innovation Zone. The project is exploring the barriers to sport for 12-18 year olds in the Latrobe municipality.
The Community Sport Planning Officer will also support the work being undertaken by the Senior Sports Consultant, in other consulting projects in the community development, sport & recreation sector, working individually, and with other GippSport staff as appropriate. The complete objectives of the position are available to be downloaded below.
GippSport is an equal opportunity employer and welcomes applicants from a diverse range of backgrounds. It is a policy of GippSport to provide reasonable adjustments for persons with a disability and from other underrepresented cohorts in the workforce. If you need assistance or adjustments to fully participate in the application or interview process, please use the contact listed below.
GippSport is committed to protecting children and young people from harm. We require all applicants who are to work with children and young people to undergo an extensive screening process prior to appointment. This process may include, but is not limited to, comprehensive reference checks, , a 'working with children' or equivalent check and/or a 'national criminal history record' check.
This is a fixed term position until 30 March 2020. Applicants must address the Key Selection Criteria outlined in the position description. Extension beyond this date is possible, however is subject to further funding and other projects being sourced.
For further information please call Michelle Harris on 0458 145 596
APPLICATIONS CLOSE ON FRIDAY 18 OCTOBER 2019
Download the position description by clicking the icon below: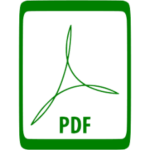 APPLICATION INSTRUCTIONS
Applications addressing the key selection criteria should be marked "confidential" and sent to:
Executive Officer
GippSport
PO Box 63
NEWBOROUGH 3825
If sending by email: info@gippsport.com.au